Good threaded rods are products that fully meet threaded rods standards. However, not all manufacturers produce threaded rods that ensure quality standards.
Threaded rods are a very important accessory in the construction industry, especially in the construction and installation of formwork. A quality threaded rod product that fully meets the standards will help formwork be firm and ensure safety during construction. So what are threaded rods? Many construction workers also have difficulty in defining and selecting quality threaded rods. In this article, Ty Viet will explain what the definition of threaded rods is and fully list the corresponding threaded rods standard specifications.
What are threaded rods?
threaded rods is a straight element with a starting length from 1 meter to 3 meters, which is used to connect the fixed structures of the building with auxiliary structures such as cable tray ladder system, building electricity and water, rescue, etc. fire. Because of their length and rigidity, threaded rods are often used with vertical connections.
Not only that, threaded rods are also one of the most mentioned film-coated formwork accessories in the work of shackles – pillars – walls before pouring concrete.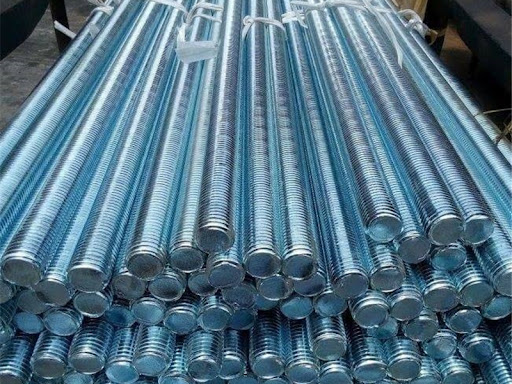 Standard specification threaded rods of all kinds
1. Standard threaded rods for loads
The load of threaded rods is understood as its "limited endurance" when in use. The exact loading of a mechanical product such as a toothpick is demonstrated by a tensile test.
2. Length
Is the sum of points on the same line – is the longest distance from one end to the other threaded rods
threaded rods range in length from 1 meter – 3 meters. But still can cut according to customer requirements when needed.
3. Diameter
Since threaded rods have a circular cross-section, its diameter will be the maximum distance between any two points on the circle of the threaded rods cross-section.
The diameter parameter helps us to correctly name and distinguish threaded rods from each other. For example, the 12 bar has a diameter of 12 mm, the 16 bar has a diameter of 16 mm and the diameter of 17 will be 17 mm.
4. Lace step
Thread pitch is the distance between two adjacent thread vertices on the same line calculated by the length of the threaded rods axis